---
COLUMBIA RIVER STEEL CORP. is the seventh HO scale layout I've built and the second with heavy industry as the major player. This incarnation's focus is nearly total in regards to big industry. Steel and nickel dominate, providing the "mountains and valleys."
---
STEEL
---
The scenario behind layout and operations is to have a natural resource company, based in Washington State, which owns steel works in Washington and Minnesota along with three railroads: Columbia Northern in Washington, Yukon Railroad in the Yukon Territory and British Columbia and the Milwaukee Road west of Miles City, Montana.
Columbia River Steel's plant in Minnesota has three blast furnaces, of which one is out of service. For conversion to steel, twin Q-BOP oxygen furnaces and two open-hearth furnaces are used.The molten steel is sent to two continuous slab casters, with two-thirds of the slabs being sent to another plant (off-layout) with the remainder being rolled in a Steckelmill, on the layout, to result in coiled plate.
For the nickel division, ore concentrate comes from northern Manitoba and Sudbury, Ontario via the Canadian National. This concentrate comes into the plant at 15% nickel and leaves ataround 90%. The concentrate is smelted and converted by having air and oxygen blown through the metal with sand and lime fluxes to remove impurities in a three-furnace linecalled the "Mitsubishi Process." The resulting liquid metal (matte) isslow-cooled in molds to further separate the nickel from the impurities. After cooling the matte is broken up and crushed before being sent to the concentrator which is very similar to a taconite plant. The pelletized product, after dead roasted in fluid bed roasters,emerges 90%+ pure and is shipped to steel industry users to make stainless steel and other specialty alloy metals.
The 1/87th scale millworkers are represented by the United Steelworkers of America. District 11's director graciously assigned #61 to the union local office. The office is located in the town across the road from the works.
---
---
Press to hear mill sounds.
---
One thing about modeling heavy industry that cannot be denied is the volume of rail traffic. Below is the daily requirements to feed the furnaces.
BLAST FURNACE
IRON ORE
7,875 TONS
92 CARS
LIMESTONE
2,025 TONS
22 CARS
COKE
2,250 TONS
25 CARS
STEELMAKING FURNACES
HOT METAL
4,770 TONS
27 CARS
SCRAP
2,610 TONS
26 CARS
LIME
300 TONS
3 CARS
NICKEL SMELTER
ORE CONCENTRATE
1,950 TONS
22 CARS
SAND
450 TONS
5 CARS
---
Power to move the tonnage is supplied by an eclectic roster of locomotives that includes EMD, Alco, Fairbanks-Morse, GE, Baldwin and Mitsubishi. The largest is a Baldwin twin-engine center cab and the smallest is 5-ton diesel which operates in the basement of the open-hearth shop. CRSC management has decided to concentrate on EMD power, specifically NW-2's (Kato) and the newly acquired SW-1200 (Life-Like) still in Birmingham Southern livery. Blue Circle Lime operates a side-rod Mitsubishi 30-ton switcher purchased from CRSC.
The mainline is host to a variety of Milwaukee Road 1st and 2nd generation power along with the new SD-60M. Run-through power includes DMIR, LS&I, CNW, Wisconsin Central, Montana Rail Link, I&M Rail Link, Conrail and CSX. The Twin Cites & Western has its own connection to the mainline. The Milwaukee is very receptive to hosting excursion trains which are heavy on steam power and 1st generation diesels including an FM "Olympian Hiawatha" Erie-built.
CRSC Locomotive Roster
BLW DT-6-6-20 (Stewart kitbash)
Alco S-2 (Atlas)
Alco S-2 (Atlas)
FM H10-44 (Walthers)
GE U-18BT (Bachmann/Athearn kitbash)
GE 70-ton (Alco Models)
GE 25-ton (Grandt Line)
GE 25-ton (Narrow Gauge Grandt Line)
EMD NW-2 (Kato)
EMD NW-2 (Kato)
EMD NW-2 (Kato)
EMD SW-1200 (Life-Like)
Mitsubishi 35-ton (Adachi)
Kawasaki Narrow Gauge 5-ton (Kato Works)
---
| | |
| --- | --- |
| | CRSC is in the March, 1999 issue of Model Railroader |
---
| | |
| --- | --- |
| | During the 1999 NMRA national convention in St. Paul, Minnesota, CRSC was on the layout tours schedule. About 400 people saw the layout, including a Frenchman from Paris whose main goal during the convention was to see CRSC. |
---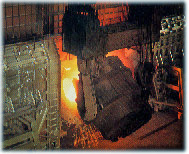 Thanks for visiting. Comments are welcome. The layout was torn down in 2002 so the room could be finished off. Most of the structures were sold to eager buyers, with the exceptions of the blast furnace and nickel smelter. The new layout will be an industrial switching layout based on the US Steel Duluth Works.